Gina Schreck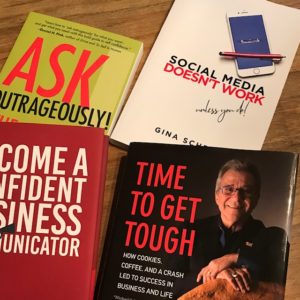 Probably you have more time to read now than you have had in many years. But which books? I just made the selection easy for you by selecting 10 business books that will help you boost your business knowledge, skills–and profits.
Here's the playlist of my brief Amazon video reviews of each book:
http://tinyurl.com/businessboostingbooks
I encourage you to watch all of these video reviews. And then you can decide which of these strategy-packed books to order.
SUBSCRIBE TO MY YOU TUBE CHANNEL
You'll find more 300 instructional videos on my YouTube channel, so I encourage you subscribe. I'm listed there as
Bill Lampton, Ph.D.
When you go to my channel you'll see where you can click to subscribe.
CALL ME TO DISCUSS YOUR COMMUNICATION CHALLENGES
I'm eager to talk with you, to learn your corporate and individual challenges. Call me for a confidential, complimentary discussion of your communication problems and goals. We'll discuss how I can assist you through "virtual coaching and consulting."
Call today: 678-316-4300
You and I know that we need to excel in social media in order to turn prospects into clients. So watch this sparkling interview with acclaimed marketing expert Gina Schreck, in the video above.
The information she offers will certainly boost your business when you put her strategy into action. I encourage you to take careful notes, and then plan how to specifically implement her tips.
SUBSCRIBE TO MY YOUTUBE CHANNEL
To access many other "BIZ COMMUNICATION SHOW" interviews, visit and subscribe to my YouTube channel, which is listed as:
Bill Lampton, Ph.D.
CALL ME TO DISCUSS YOUR BUSINESS COMMUNICATION PROBLEMS
Together, we will discuss potential solutions, and how I will help you activate them.
Call now! 678-316-4300