Bill Lampton
During my two decades in management, I saw many managers–even at the CEO level–practically become hermits. They isolated themselves from their employees. This practice lowered credibility, morale, teamwork, and productivity.
This brief video gives specific examples, and tells you how to become more visible, more respected, and more of a true leader.
SUBSCRIBE TO MY ONLINE NEWSLETTER
To get regular tips that will boost your sales, customer service, management, motivation, and profits, subscribe to my online newsletter, "Winning Words and Ways."
You can sign up in the slots provided on my Web site:
https://bizcommunicationguy.com
CONTACT ME–TODAY!
To discuss how my consulting and coaching will help your company and you "communicate with poise, power, and persuasion," call me today!
678-316-4300
COPYRIGHT 2018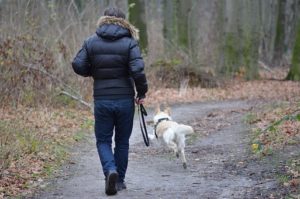 Life as a graduate student at Ohio University would have been demanding enough my first year without that inconsiderate neighbor in the building behind me. Every night while my wife and two small children were trying to get to sleep, this guy took his dog "Deal" out for an evening walk.
For ten minutes or so, that pet owner would call his unleashed dog by name dozens of times, with his loud voice echoing between those two brick buildings, shattering the silence my family needed for sleep.
I BECAME ASSERTIVE
After several weeks of tolerating his annoying and thoughtless behavior, I decided to confront the night walker. I did that one evening when he entered our apartment building, with his dog close by. Without introducing myself or using a courteous tone, I blurted out:
"Look, buddy, I'm fed up with you and that dog of yours. Every night when you take him out for a walk and yell 'Deal, Deal' every few seconds, not only do you keep my family awake, you upset us so much we can't calm down when you take your mutt Deal back inside. Enough is enough. Get the message?"
He looked startled. I understood why when he answered, "Hey, man, you're complaining to the wrong guy. This is my first time here. I'm just visiting a friend on second floor in that other building."
Of course, my tone changed. I apologized. Even this long afterward, I remember blushing too.
APPLYING THE COMMUNICATION LESSON I LEARNED
As I recall that embarrassing blunder today, I know I'd like to have a couple of minutes to talk with the prominent individuals who create national and even international news daily by making statements based on assumptions—assumptions not supported by facts.
Yet because I won't have an opportunity to challenge their baseless statements, renowned public figures will just keep saying they "misspoke," "misremembered," or had their remarks "taken out of context."
Oh, you'll notice I haven't named any of the culprits. My guess is you have identified at least a dozen of them already.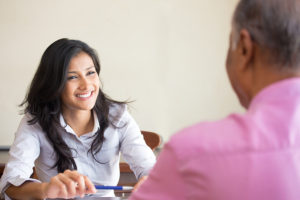 Picture this happening to you. Recently you made a major purchase, one that you hope to make only every few years because of the high price involved. During the time you talked with the sales professional, he made you feel very special.
In fact, he greeted your spouse enthusiastically, and told her what a cute puppy she was holding. He asked: "Tell me all about this fur ball in your arms. I'll bet she is the queen of your house."
Realizing you were not a technology expert, he explained and demonstrated what you needed to know about the complex equipment. Even though you asked more questions than most customers probably would, he responded to each one patiently.
You bought the product, and you left the establishment talking with your spouse about how helpful and gracious the sales rep had been.
Fortunately, the product served you well. Even so, four months later, without any feeling of panic, you noticed a blinking light you had not been aware of previously. So you went to the service department, asked what this was all about, and got a quick answer letting you know you didn't have a problem.
Before you exited the building, you thought: "While I'm here, I'll just go say hi to Arlin (not his real name) who was so friendly and helpful when I was deciding what to buy." You found Arlin, approached him, gave him your name, and reminded him how much you welcomed his information and advice months ago.
Arlin's bland reaction shocked you. You knew you were talking to the same sales rep, yet you felt none of the warmth that seemed so authentic before you signed up for the installment payments. This time he asked no questions about your use of the product, and you assumed that if you had the dog with you now he wouldn't comment about your beloved pet. Almost as quickly as your conversation with Arlin started, he said as he walked away, "Good to see you, thanks for saying hello."
I know how disappointed you would be if you felt practically ignored by your previously effervescent sales guy. I know because I was the buyer in this case.
Oh yes, the company sent me a nice thank you gift a few days later. I appreciate that. Even more, I would have appreciated Arlin welcoming me back as royally as he had welcomed me initially.
Every one of us in sales can take an important lesson from this after-the-sale experience. Namely this: the responsibility of the sales professional to treat the customer with real concern does not end when the check clears the bank, the credit card goes through, the credit rating is favorable, or the product leaves the establishment.
The customer care we show at the outset must remain at the same level of vitality and sincerity the next time we talk with the buyer. Our professional image and the reputation of our company depend on sustained supportive relationships with our clients.
CALL ME TO GET SOLUTIONS TO YOUR COMMUNICATION PROBLEMS
I invite you to call me, so we can discuss your major communication problems–either as an individual or as a company. As a corporate communication consultant and speech coach, I am eager to assist you with a customized plan designed specifically for you.
Let's talk NOW! 678-316-4300
For 20 years Terry Dean has been mastering that tool that was new to all of us two decades ago–the Internet. In his new book, he does more than describe his superlative results in Internet marketing. Beyond that, he gives us his success strategies in great detail.
I invite you to watch my interview with Terry, when I hosted him on my "Biz Communication Show." Just click the arrow on the video, and soon you will hear him talk about how he went from perennial poverty to professional prominence in his field.

You'll enjoy his sales lesson from Oscar the cow!
CALL ME TODAY!
Call me today to learn how my communication coaching will help you succeed. Remember, distance from my home office presents no problem. I will coach you by phone, Skype, or Zoom.
Call now: 678-316-4300
How many people do you know? That's what I'm wondering today.
Twenty years ago we might have answered that question by estimating the number of people in our neighborhood, civic club, religious organization, workplace, country club, and other places we interacted with others.
The Internet has changed that. Now the answer could refer to those who are connected with us online. We might point to our connections on Facebook, LinkedIn, Twitter, and similar sites.
However, think for a minute about some of your acquaintances, even those you call friends. Do you know if they are veterans? How many states have they lived in? Is their current profession the only one they have pursued? What are their favorite vacation spots? What books and movies do they love? Do they have brothers and sisters?
Now we're beginning to see what knowing somebody really means. To get to that level in a relationship, you have in-depth conversations. Not by texting, not by e-mailing–but by face to face talk that positions you as a keen, empathetic listener.
When I was teaching at the University of Georgia, I offered a noncredit evening course, "How to Improve Your Conversation." Our two hour class met weekly for eight weeks. Quickly, I learned that the participants were hungry for conversational guidelines. Even today, I remember the auto dealer, TV broadcaster, sales professionals, and others who explored how to engage in meaningful conversation.
More recently, when I offer my corporate clients a list of 20 communication topics they want me to include in my coaching, "Become skilled at small talk" emerges as a popular choice. That seems to be increasingly the case.
So I am calling for us to generate more in in-depth conversations. Start with your family. Watch less TV, reduce time with games and gadgets. Ask "How was your day?" Or "Who is your favorite teacher this year?"
At work, inquire about families, hobbies, weekend plans, and other topics that reflect your genuine interest. In-depth conversations move us from "on speaking terms" to "how fascinating that individual is."
Months from now, if I were to ask you "How many people do you know?" I hope you will not even mention your social media contacts. I'd be eager to hear what you have learned about those who have surrounded you for years.
LEARN TO CONTROL YOUR STAGE FRIGHT
As an important part of your professional development, learn to control your stage fright–so you can express your good ideas clearly and persuasively. Begin by ordering my new book:
25 Ways to Control Your Stage Fright–and Become a Highly Confident Speaker!
Available in Kindle and paperback on Amazon. Here is the link:
http://tinyurl.com/juqc5kb
hat's what
"Did you hear that our department is going to suffer a huge budget cutback?"
"Guess what our beloved boss has decided to do next."
"Sure seems like Marvin is getting plenty of phone calls that aren't from his wife."
Yes, these comments represent one of the most sinister threats to your career. If you choose to participate in listening to and spreading company gossip, you have started a downward spiral. Consider these five reasons gossip threatens your reputation and long-range standing with your corporation.
ONE: Gossip brands you as a negative person.
As the originator or spreader of bad news, you appear toxic. You poison the workplace atmosphere. Eventually, some of your colleagues will drift away from you at mealtime and coffee breaks.
Worse still, your negative outlook will keep you near the bottom of the organizational chart. Why? Companies want leaders who are supportive, cheerful, and looking for the best in others.
TWO: Frequently gossip is not true.
Gossip usually does not equate to "gospel truth." Gossipers enjoy circulating rumors based on suppositions and suspicion. So when you get involved with what might not be factual, you are supporting dishonest dialogue. That's disastrous for your image.
THREE: Gossip is not necessarily confidential.
A co-worker tells us, "Now you can be sure this is just between you and me, OK?" No, that is not OK, because the person who is telling you this has probably said the same thing to a half dozen other team members.
Be aware also that when the gossiper talks to someone else, he or she is very likely to quote what you said—despite the promise of confidentiality.
FOUR:  The person who gossips with you will gossip about you
What guarantees that  you are immune from becoming the victim of gossip when you have listened to the office naysayer and shared your comments? Nothing. Once you give that person your ear and your words, you can become the next target.
FIVE: Gossip destroys group morale
And when morale takes a nose dive, the CEO will start asking questions until she identifies the employees who spread rumors, accusations, assumptions, and character assassination. That could lead to a reprimand—or worse, to a dismissal.
TWO WAYS TO KILL GOSSIP
There are two simple ways to kill gossip and thereby protect your career.
First, when your workplace caustic critic launches into a barrage of nasty statements about a colleague, simply say: "Please don't say any more about Jim. He is a team member I respect greatly. He has supported me and cooperated with me ever since the company brought me on board. I choose not to talk about him unless you have something affirmative to share now."
Second, insist on documentation. "You are saying that Ellen has been involved in illegal handing of our accounts. Before we talk about this any further, I want you to bring me a list of specific transactions and their dates. When you do that, I will consider your evidence carefully."
Use these two gossip killers, and you will give fresh life to your career.
Having lived all but ten years of my adult life in the southeastern part of the United States, I am well aware that this region has some communication customs that are not necessarily recognized in other parts of the nation.
Certainly the language of the South has phrases and idioms that I would have to explain to a newcomer. "Y'all" could mean one or more of you. "Fixin' to" means we are on the verge of doing something." "Long tall drink of water" refers to someone whose height exceeds the average quite noticeably.
If a newcomer wanted to know about southern nonverbal communication, I would first explain that almost everybody expects you to wave at them.
"But what if I don't know them?" you might ask me.
"Doesn't matter. Whether the person is a close friend, your neighbor down the street, or a total stranger, you wave at them and they will wave back."
"Yes," I elaborate, "you need to form the habit of waving at everybody–the guy who delivers your mail, the lady walking her dog, the driver who slows down so you can enter traffic, and the kid riding by on a bike."
"Well," the stranger I am coaching asks, "what will they think if I don't wave?"
"People could draw one of several conclusions. Among them: you are unfriendly, a loner, not feeling well today, or had a bad day at work."
"Does it matter how I wave? Is there any special method?"
"Nope, just wave. Of course it helps when you smile and make solid eye contact."
When our conversation ends, the newcomer thanks me for my advice about how to adapt to one of this area's longstanding nonverbal habits. I knew I had gotten my point across, because as he was walking away he waved at the pizza delivery guy who had just parked in front of my house.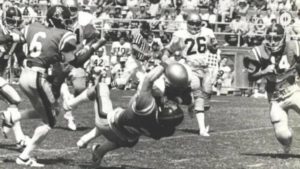 How many millions of people are talking about the incredibly exciting NCAA championship football game on January 9, with Clemson defeating Alabama with one second to go? Amazing performances by both teams!
The next morning, William Day–a former Ole Miss player–wrote a terrific description of what it takes to reach championship level play. He gave me permission to reprint his thoughts. I invite you to read them now:
http://tinyurl.com/hmknpgc

APPLY THE SAME PRINCIPLE TO YOUR BUSINESS CAREER
Imagine applying the same level of goal-setting, determination, and discipline to your business. As you read biographies of the most successful business leaders, you know they do exactly that. As William Day said, there are no trophies for merely participating.
Remember William Day's guidelines for becoming a champion. Yes, they work in sports, business-and life!
And yes, you see William Day in action above, tackling a Notre Dame player in a game that became one of Ole Miss' greatest victories.

CALL ME TODAY!
Call me today to learn how my communication coaching will help you succeed. Remember, distance from my home office presents no problem. I will coach you by phone, Skype, or Zoom.
Call now: 678-316-4300
Visit my Web site: https://bizcommunicationguy.com
Blog