managers in company cafeteria
During my two decades in management, I saw many managers–even at the CEO level–practically become hermits. They isolated themselves from their employees. This practice lowered credibility, morale, teamwork, and productivity.
This brief video gives specific examples, and tells you how to become more visible, more respected, and more of a true leader.
SUBSCRIBE TO MY ONLINE NEWSLETTER
To get regular tips that will boost your sales, customer service, management, motivation, and profits, subscribe to my online newsletter, "Winning Words and Ways."
You can sign up in the slots provided on my Web site:
https://bizcommunicationguy.com
CONTACT ME–TODAY!
To discuss how my consulting and coaching will help your company and you "communicate with poise, power, and persuasion," call me today!
678-316-4300
COPYRIGHT 2018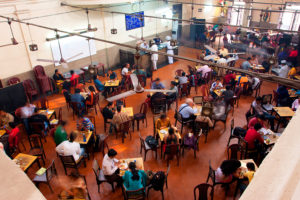 If your business has a company cafeteria, my guess is that you have become aware of these mistakes that many managers make:
ONE: Thinking that they can't get away from meetings for thirty to forty-five minutes, they continue to meet during lunch and have their meal brought into the conference room.
TWO: They walk to the cafeteria and get a to-go sack, bring it back to the conference room, and in this way only lose ten minutes of meeting time.
THREE: Managers show up at the cafeteria, but isolate themselves from everybody else at a table in the corner.

FOUR: Managers once in awhile sit with an employee, yet only because they have a business item to discuss with that subordinate.
What do these dining habits say about these managers? Inescapably, that they appear aloof, distant, and uninterested in building relationships outside the senior staff circle.
So when a corporation brings me in to assess the company's communication climate, soon I will bring the discussion around to what the managers do during lunch hour. As you can guess by now, I recommend that they:
–Show up and circulate
–Sit with different people every day
–Avoid talking about business. Chat casually about community activities, sports, families, and other topics not related to work.
Managers who follow these recommendations will create an image of being approachable, personable, and no longer stuffy. Employees will stop referring to them as "The Suits."
NOTE: Don't worry, managers, about what you have lost by interrupting your meetings. You have gained much more by your interaction with those who want to know you personally as well as professionally.
ORDER MY NEW BOOK ABOUT STAGE FRIGHT
Because stage fright keeps many professionals from reaching their potential, recently I wrote this book:

"25 Ways to Control Your Stage Fright–and Become a Highly Confident Speaker!"
Available in Kindle and paperback editions. Here's the Amazon page:
http://tinyurl.com/juqc5kb
Blog