Listening skills
How important is listening, both for interpersonal and organizational communication?
For decades I have said that listening is one of our most powerful communication tools–yet one of the most neglected.
How well do you listen? Watch the one minute 45 second video above, to hear me explain Stephen Covey's five levels of listening. As you watch, evaluate your listening habits–and candidly evaluate which slot you belong in.
SUBSCRIBE TO MY YOU TUBE CHANNEL
I encourage you to subscribe to my YouTube channel, giving you access to more than 400 brief instructional videos, which you can watch on your own schedule.
You'll find my YouTube channel listed as
Bill Lampton, Ph.D.
Once there, hit the "Subscribe" button, and gain instant access to every new video from the "Biz Communication Guy."
I recorded this brief video on Monday, when most of us think about our goals.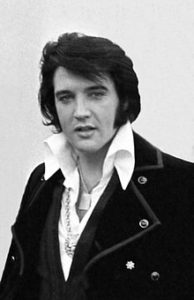 Note that if the vastly talented Elvis didn't have a hit with every song, then we need to become very realistic about our goals.
As I advise, even when we don't reach coveted goals, we need to talk to ourselves positively and supportively.
CALL ME–NOW!
Call me now. . .to describe your communication challenges, and learn how I can help you communicate with "poise, persuasion. . .and profits."
How many people do you know? That's what I'm wondering today.
Twenty years ago we might have answered that question by estimating the number of people in our neighborhood, civic club, religious organization, workplace, country club, and other places we interacted with others.
The Internet has changed that. Now the answer could refer to those who are connected with us online. We might point to our connections on Facebook, LinkedIn, Twitter, and similar sites.
However, think for a minute about some of your acquaintances, even those you call friends. Do you know if they are veterans? How many states have they lived in? Is their current profession the only one they have pursued? What are their favorite vacation spots? What books and movies do they love? Do they have brothers and sisters?
Now we're beginning to see what knowing somebody really means. To get to that level in a relationship, you have in-depth conversations. Not by texting, not by e-mailing–but by face to face talk that positions you as a keen, empathetic listener.
When I was teaching at the University of Georgia, I offered a noncredit evening course, "How to Improve Your Conversation." Our two hour class met weekly for eight weeks. Quickly, I learned that the participants were hungry for conversational guidelines. Even today, I remember the auto dealer, TV broadcaster, sales professionals, and others who explored how to engage in meaningful conversation.
More recently, when I offer my corporate clients a list of 20 communication topics they want me to include in my coaching, "Become skilled at small talk" emerges as a popular choice. That seems to be increasingly the case.
So I am calling for us to generate more in in-depth conversations. Start with your family. Watch less TV, reduce time with games and gadgets. Ask "How was your day?" Or "Who is your favorite teacher this year?"
At work, inquire about families, hobbies, weekend plans, and other topics that reflect your genuine interest. In-depth conversations move us from "on speaking terms" to "how fascinating that individual is."
Months from now, if I were to ask you "How many people do you know?" I hope you will not even mention your social media contacts. I'd be eager to hear what you have learned about those who have surrounded you for years.
LEARN TO CONTROL YOUR STAGE FRIGHT
As an important part of your professional development, learn to control your stage fright–so you can express your good ideas clearly and persuasively. Begin by ordering my new book:
25 Ways to Control Your Stage Fright–and Become a Highly Confident Speaker!
Available in Kindle and paperback on Amazon. Here is the link:
http://tinyurl.com/juqc5kb
hat's what
Blog