admin
You will be able to communicate effectively with a wide variety of people who think quite differently from the way you do, when you learn DISC communication styles.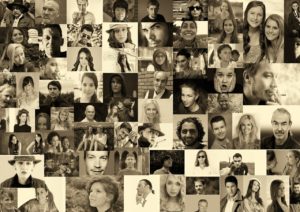 For more information about DISC styles, visit this Web site:
CALL ME!
Call me now to order your DISC survey, which you will complete online.
678-316-4300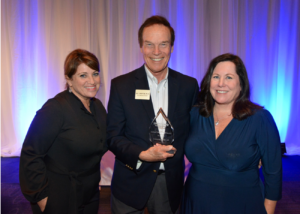 Recently Cricket Elliot–pictured above on my right–invited me to attend the annual awards luncheon for Explore Gwinnett (marketing brand for the Gwinnett Convention and Visitors Bureau). I accepted enthusiastically because of my seventeen year affiliation with the organization, presenting communication seminars every few months. As Tourism Education Director, Cricket has hosted my presentations many times.
The elegant event took place in the Infinite Energy Center in Duluth, Georgia, next to the building that houses Explore Gwinnett.
When guests finished dining, the awards ceremony began. As Cricket began reading an award citation, I thought "Gosh, that sounds like some of the things I have done."

THE AWARD CITATION
Here's the citation Cricket read in announcing my "Friend of Gwinnett Tourism" award:
She first said:
This person has been a true supporter of Explore Gwinnett. He always has shout-outs for us on his channel, Facebook and wherever he is. He has sent the GTEP program so many valuable speakers and is always a top professional in his presentations. His passion to see others succeed is why this man will remain at the top of his game for a long time to come. He is a delight to work with and his positive attitude is ever present.

Then she added: "And Sandra would be very proud of you."
That was the unmistakable clue that the citation referred to me. My wife Sandra had transitioned to her celestial home on October 5. Just a few months before that, not only did Sandra attend one of my Explore Gwinnett seminars, she participated in a role playing session with me. Cricket and the seminar participants welcomed her lively involvement.
Cricket's next words:
To my amazement, Cricket called my name, and I went to the stage to accept the award from her and Lisa Anders, Executive Director of Explore Gwinnett. You'll see Lisa on my left in the photo.
MY GRATITUDE
As you can imagine, not only was I surprised I was very thankful for this honor. Serving Explore Gwinnett has been a grand privilege, and I am eager to host new communication training seminars in the new year.
CALL ME TODAY!
Call me today to tell me about your company's communication problems, and we'll discuss how I will help you solve them, through my keynote speeches, seminars, coaching and consulting.
Call 678-316-4300
The "Biz Communication Guy" will be eager to meet your needs, as I have done consistently with Explore Gwinnett.
Joseph Michelli has published best-selling books exploring the "customer experience" principles and practice of some of the world's major companies, including Starbucks, The Ritz-Carlton Company and Mercedes-Benz. Now he has added to this prestigious list by reporting on the success of a phenomenal hospitality company, Airbnb.
Watch this lively interview (at the top of this post) featuring Michelli's guest appearance on my weekly "Biz Communication Show."
I recommend you share this interview with your corporate team–and schedule time for discussion, assessing how you can apply Airbnb's formula to your customer service.
CONTACT ME TO LEARN HOW MY SERVICES WILL BOOST YOUR BUSINESS
Call me today, so we can start identifying your communication challenges and problems–and assess how I can help you resolve them.
Call 678-316-4300
I'm eager to assist you!
You have wanted to publish a book for years–sharing the expertise you have learned professionally–yet you don't know how to land a publishing contract.
Esteemed literary agent Wendy Keller gives you her formula in this highly informative interview (posted in the video above). Wendy has helped thousands of book authors break into print with major publishers over the last three decades.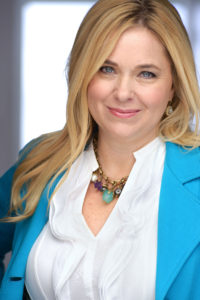 Watch now to get an expert's advice!
CALL ME TO DISCUSS YOUR COMMUNICATION CHALLENGES
Yes, as the "Biz Communication Guy" I'm eager to help you identify your communication problems, and then find solutions to them.
Let's talk today: 678-316-4300
You and I know that we need to excel in social media in order to turn prospects into clients. So watch this sparkling interview with acclaimed marketing expert Gina Schreck, in the video above.
The information she offers will certainly boost your business when you put her strategy into action. I encourage you to take careful notes, and then plan how to specifically implement her tips.
SUBSCRIBE TO MY YOUTUBE CHANNEL
To access many other "BIZ COMMUNICATION SHOW" interviews, visit and subscribe to my YouTube channel, which is listed as:
Bill Lampton, Ph.D.
CALL ME TO DISCUSS YOUR BUSINESS COMMUNICATION PROBLEMS
Together, we will discuss potential solutions, and how I will help you activate them.
Call now! 678-316-4300
When you watch the above video, you'll hear me say at the outset that almost every day on the calendar is a national "something or other" day.
Then I tell why every day can be International Compliment Day.
Use my tips on how and when to give compliments–and watch your professional and personal interactions improve dramatically!
LET'S CONNECT ON LINKEDIN
I welcome new LinkedIn connections with dedicated business professionals. So I invite you to connect with me on LinkedIn:
http://www.linkedin.com/in/billlampton
CALL ME TODAY!
Call me today to discuss your major communication problems, and learn how I can help you solve them–as the "Biz Communication Guy."
Call 678-316-4300
Lorrie Thomas Ross, known widely as "The Marketing Therapist," joined me for an interview about her highly creative approach to marketing. Watch the above video to hear our stimulating, highly informative conversation.
SUBSCRIBE TO MY YOUTUBE CHANNEL
I invite you to subscribe to myYouTube Channel–Bill Lampton, Ph.D.–where you'll have instant access to many instructional videos, including other interviews from my weekly "Biz Communication Show."
CALL ME–TODAY!
Call me today, to discuss your communication problems, both corporate and individual. We'll determine what steps I will take to help you find the right solutions.
Call now: 678-316-4300
Dianna Booher has earned a stellar reputation as a keynote speaker, business consultant and executive presence coach. And let's note, too, her prolific writing career. Her most recent publication–Faster, Fewer, Better E-Mails–is her 48th book.
In the video above, I interview Dianna about the e-mail recommendations her book provides. You and your colleagues will want to listen to her advice, which will help you "manage the volume, reduce the stress and love the results," as the subtitle says.
The book release is set for June 18. However, you can order prior to the publication date through Amazon or Barnes and Noble.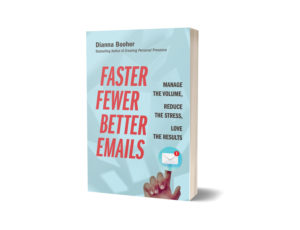 Again, I encourage you and your business associates to watch this lively, informative interview. Suggestion: Show it during a staff meeting, and then discuss how you will implement Booher's e-mail approach.
SUBSCRIBE TO MY YOU TUBE CHANNEL
My interview with Dianna Booher reflects the valuable information you will have access to when you subscribe to my YouTube channel, where I display more than 400 instructional videos.
To subscribe, go to YouTube and find my channel:
Bill Lampton, Ph.D.
Hit the subscribe button, and you will have access to my many video tips on all facets of business communication.

CALL ME
To discuss how my services will benefit your company and you, please call me for a complimentary initial conversation.

Call 678-316-4300
How important is listening, both for interpersonal and organizational communication?
For decades I have said that listening is one of our most powerful communication tools–yet one of the most neglected.
How well do you listen? Watch the one minute 45 second video above, to hear me explain Stephen Covey's five levels of listening. As you watch, evaluate your listening habits–and candidly evaluate which slot you belong in.
SUBSCRIBE TO MY YOU TUBE CHANNEL
I encourage you to subscribe to my YouTube channel, giving you access to more than 400 brief instructional videos, which you can watch on your own schedule.
You'll find my YouTube channel listed as
Bill Lampton, Ph.D.
Once there, hit the "Subscribe" button, and gain instant access to every new video from the "Biz Communication Guy."
In both speaking and writing, sometimes we believe we will make a highly favorable impression by using big words–including some of the ones we learned in freshman English class in college.
Watch the above video (which lasts less than two minutes) to hear me offer the opposite view, and give examples of big words we can discard by using simpler words that still get the point across.
SUBSCRIBE TO MY ONLINE NEWSLETTER
On every page of my this Web site you have the opportunity to subscribe to my online newsletter, "Winning Words and Ways." I invite you to do that now, so you will get frequent business communication strategies you can share with your team.

CALL ME–NOW!
Call me to discuss your communication challenges–and learn how I can help you and your corporation communicate with poise, persuasion. . . and profits!
678-316-4300
Copyright 2019
Blog