biz communication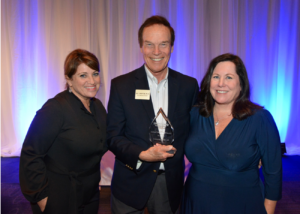 Recently Cricket Elliot–pictured above on my right–invited me to attend the annual awards luncheon for Explore Gwinnett (marketing brand for the Gwinnett Convention and Visitors Bureau). I accepted enthusiastically because of my seventeen year affiliation with the organization, presenting communication seminars every few months. As Tourism Education Director, Cricket has hosted my presentations many times.
The elegant event took place in the Infinite Energy Center in Duluth, Georgia, next to the building that houses Explore Gwinnett.
When guests finished dining, the awards ceremony began. As Cricket began reading an award citation, I thought "Gosh, that sounds like some of the things I have done."

THE AWARD CITATION
Here's the citation Cricket read in announcing my "Friend of Gwinnett Tourism" award:
She first said:
This person has been a true supporter of Explore Gwinnett. He always has shout-outs for us on his channel, Facebook and wherever he is. He has sent the GTEP program so many valuable speakers and is always a top professional in his presentations. His passion to see others succeed is why this man will remain at the top of his game for a long time to come. He is a delight to work with and his positive attitude is ever present.

Then she added: "And Sandra would be very proud of you."
That was the unmistakable clue that the citation referred to me. My wife Sandra had transitioned to her celestial home on October 5. Just a few months before that, not only did Sandra attend one of my Explore Gwinnett seminars, she participated in a role playing session with me. Cricket and the seminar participants welcomed her lively involvement.
Cricket's next words:
To my amazement, Cricket called my name, and I went to the stage to accept the award from her and Lisa Anders, Executive Director of Explore Gwinnett. You'll see Lisa on my left in the photo.
MY GRATITUDE
As you can imagine, not only was I surprised I was very thankful for this honor. Serving Explore Gwinnett has been a grand privilege, and I am eager to host new communication training seminars in the new year.
CALL ME TODAY!
Call me today to tell me about your company's communication problems, and we'll discuss how I will help you solve them, through my keynote speeches, seminars, coaching and consulting.
Call 678-316-4300
The "Biz Communication Guy" will be eager to meet your needs, as I have done consistently with Explore Gwinnett.
When I was interviewing for a staff position decades ago, the department head Al walked me around the office, introducing me to my potential colleagues. Because I had done my homework, before I met Jim I knew that Jim had been there a long time. Jim and I chatted for two or three minutes.
When Al and I walked into the next room, I commented: "I noticed that Jim has twenty years of experience here."
Al's answer jarred me:
"No, he has one year of experience, and he has repeated that twenty times."
That frank analysis gave me a new slant on how we should define years of experience. Ordinarily the term refers to calendar years. Ever since that incident, I evaluate years of experience in regard to learning, progress, continuing education, professional development, acquired skills, degrees and credentials earned, and magnified usefulness to the organization.
Applying that to my career, in 1997 I left the management arena to become an entrepreneur. I learned some basic new skills that first year. I chuckle now when I remember a friend telling me in a phone conversation how to cut and paste portions of a document, despite my saying "too complicated, not sure I can get this." Then there was another patient colleague who guided me through how to change a document's font to color instead of black and white. Also, I have fond memories of the tech consultant who taught me how to put down my #2 pencil and operate the computer keyboard. Those were my first grade level starting points.
But what if I had stopped then, almost twenty years ago? Had I stagnated in my advancement, I would not be able to:
–produce my own videos
–video record interviews with experts
–make changes on my Web site without having to hire a professional
–maintain two blogs
–post regularly on the major social media platforms
–podcast
–publish an e-book
–distribute an online newsletter
Every day, I realize I am creating a new "year of experience." I have so much more to learn, and I'll find the best mentors and coaches to explain and demonstrate what they have mastered. That approach will cost me time and money, yes–yet the hours and dollars invested will equip me to serve my clients with an elevated level of competence.
Now I encourage you to answer the key question–candidly and privately–for yourself: "How many years of experience have I had?"
Blog