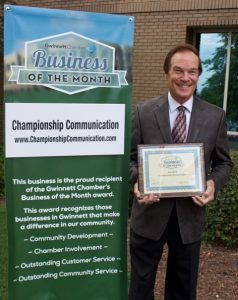 Gwinnett Chamber's "Business of the Month"
What qualifies me to become your Company's Communication Consultant?
Theory–Taught Speech Communication to Business School students at the University of Georgia
On site learning
–Spent 22 years in management at the vice presidential level, giving me first-hand
experience with the communication challenges organizations face—and how to overcome those challenges.
Vice President: Kentucky Wesleyan College
Vice President: Columbia College
Vice President: Georgia College and State University
Vice President: Northeast Georgia Medical Center
My management career spanned 1974-1996. During those twenty-two years,
I identified the major communication problems that leaders face—and learned how
superb leaders resolve them.

–Experience: Consulting with Top-Tier Companies Since 1997
Gillette
Procter and Gamble
Duracell
Sage
Celebrity Cruises (Enrichment Lecturer)
Ritz-Carlton Cancun
British Columbia Legal Management Association
Krystal Company
–Interviewed as a communication expert by
Entrepreneur
HR Today
Newsday
Washington Post
Los Angeles Times
Cosmopolitan
Delta's SKY
Investor's Business Daily